The "Pivot to Asia" as a breakdown of patterns
As the Ukrainian crisis escalates, global geopolitics and geo-economics keeps turning towards Asia. Although by itself this factor does not determine processes, but is a catalyst to them. In any case, what is happening should be considered as a breaking of old global architecture of the Yalta-Potsdam era and building a new one, the name to which has yet to be defined.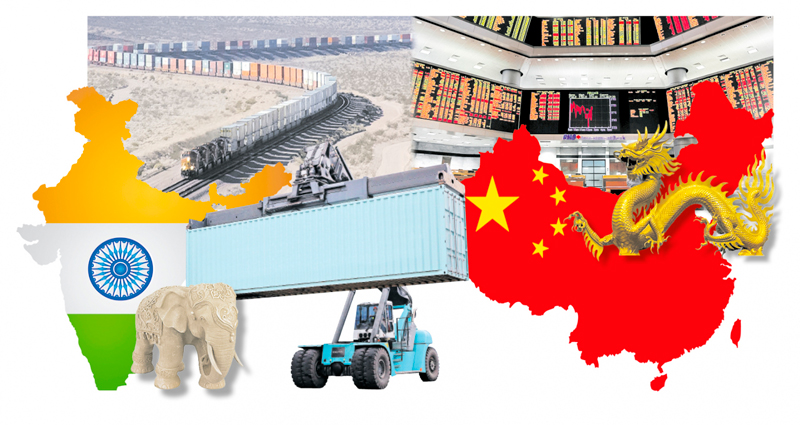 The Pragmatic Dragon
Washington's distraction to Ukraine expands strategic space for Beijing in the region.
Chinese Foreign Minister Wang Yi's tour of India, Pakistan, Afghanistan and Nepal, meeting in the Chinese Tunxi on the Afghan issue of ministers from Iran, Tajikistan, Turkmenistan and Uzbekistan, a visit of the foreign Ministers of Thailand, the Philippines, Myanmar and Indonesia to Beijing, a meeting of Defense Minister Wei Fenghe in Tehran with President Raisi and the Kazakh leader in Nur-Sultan along eith Xi Jinping's contacts with the heads of Cambodia and South Korea, clearly contrast with the repeated postponement by the White House of the US—ASEAN summit due to "schedule problems". Nevertheless, Biden will visit South Korea and Japan from May 20 to 24, where a face-to-face summit of the leaders of the quadrilateral security dialogue of Japan, the United States, India and Australia (QUAD) is to be held.
Active peacemaking diplomacy does not alter the absolutely pragmatic foreign policy of the PRC, which is close to the approach of the British Empire: there are no permanent friends, only permanent interests. China has extremely well researched sanctions regimes and often adheres to them even more strictly than the West itself, due to the close relationship of economies and the primacy of national interests.
According to the Ministry of Trade of China, in the first two months, trade between China and the EU has been 14.8 per cent up year-on-year to a record 137.16 billion. Exports to key EU countries, Germany and France, are growing at an impressive pace having grown by more than 17 per cent, to Italy — by 37.6 per cent. Europe remains China's main trading partner in 2022, surpassing even ASEAN (by 570 million). There is every indication that in the near future Beijing will keep developing ties with the EU, seeking to avoid any pitfalls that could damage its European exports, and reacting with restraint to negative rhetoric and pressure.
In 2021, Chinese investments in European startups more than doubled and reached a record level of 1.2 billion euros. Chinese investors have invested the most in the UK and Germany in sectors such as e-commerce, fintech, games, artificial intelligence and robotics.
In the first quarter of 2022, 3,630 trains passed along the China—Europe—China route, delivering 350,000 TEUs (TEU is a 20-foot container) of cargo (an increase of 7 per cent and 9 per cent, respectively). This means that the supply chains of Chinese goods to Europe remain stable despite the challenges of the last two pandemic years.
A clear example of Chinese pragmatism was the launch of a new (16th in a row) 11,300 km railway freight route to Europe bypassing Turkey and the Russian Federation, which covers countries and regions through which China-Europe trains had rarely passed before. It crosses the Caspian and Black Seas using combined rail and sea transportation, passing through Kazakhstan, Azerbaijan, Romania, Hungary, Slovakia, Czech Republic and eventually reaching Mannheim in Germany.
The ulterior motives of such a step is the accompanying sanctions logistical problems for rail transportation from China through the territory of the Russian Federation to Europe. Beijing is distancing itself from Ankara due to intensified geopolitical discord, despite considerable investments in transport infrastructure in Turkey.
Despite the threats of British Foreign Minister Liz Truss to impose anti-Russian-like sanctions against China, most experts agree that the West cannot really hit its economy without serious damage to its financial system.
In fact, as of January 2022, China held a little more than $1 trillion of its approximately $3 trillion of foreign exchange reserves in US Treasury bonds, which can be blocked. However, in response, Beijing may confiscate Western assets worth 3.6 trillion (this is only direct investment) and shares worth 2.2 trillion.
Following the US Financial Stability Board, four out of 30 "systemically important" banks in the world are located in China, leaving Western financial institutions that have accounts there and have issued loans, in a vulnerable position. Banning exports of high-tech products to China will deprive American manufacturers of 37 per cent of profits and put 120,000 jobs at risk.
India – a new global player
Amidst the escalating tensions between China and the United States, India is increasingly expressing its ambitions, changing the balance of power in Asia into a more complex geometry.
The refusal of New Delhi, despite systemic pressure from outside, to narrow the international agenda to the framework of the Ukrainian crisis predictably changes China's counter attitude. Wang Yi, who had recently visited the Indian capital, directly proposed to work together to promote peace and stability in the region, emphasizing the "thousand years history of civilization exchanges and friendly cooperation" which "will have a far-reaching impact on Asia and the world at large", as well as demonstrating a willingness to leave the border dispute behind brackets. Respect for India's traditional role in the region and readiness to promote the "China-India Plus" cooperation format to build a "sound interaction model", which the whole world should pay attention to, were emphasized.
It should be noted that in 2022-2024, China and India will host the BRICS, G-20 and SCO countries summits, which is a good reason to increase constructive cooperation.
Based on the General Administration of Customs of the People's Republic of China, India's trade with China in 2021 increased by 43 per cent year-on-year and exceeded $ 125 billion. The growth of mutual trade turnover was one of the highest among China's main trading partners.
Despite external pressure, Russian-Indian ties are improving dynamically. The Ministry of Finance of the Russian Federation and the Reserve Bank of India are developing trading schemes in rupees and rubles. Vietnam can follow this example by switching to settlements in rubles and dong.
Experts believe that the expanding the practice of settlements in national currencies is a historic opportunity for the EEU, BRICS and SCO countries to create an alternative financial architecture.
In fact, in 2021, the cumulative growth of Russia's trade turnover with BRICS and SCO made about 38 per cent. With this, the BRICS share in the global economy is at least one-third.
Apart from purchasing discount oil, India intends to double coking coal imports from Russia, a key raw material for steel production. Following the International Energy Agency Forecast, demand for this product in India will grow by an average of 6.6 per cent per year until 2024, while in China and Japan — by one per cent, and in Southeast Asian countries — by 5.4 per cent.
According to local media, the Indian authorities have instructed their state corporations to assess the purchase of British BP's stake in Rosneft to gain systematic access to hydrocarbon resources.
It is worth noting that another promising market for Russian hydrocarbons is Indonesia, which has an interest in procuring large volumes of cheap Russian oil despite the sanctions. Specially for receiving light Russian oil, Pertamina is upgrading its refinery facilities in the island of Java and is planning to start deliveries by the end of the year.
India's signing of free trade agreements with the UAE and Australia in recent months has prompted the EU to accelerate similar negotiations, aiming to bring the level of mutual trade to $ 220 billion over five years. The UK is also moving at an accelerated manner towards a trade deal with India.
Experts believe that amid the Sino-American confrontation, it is important for Russia to increase cooperation with India, considering its growing role in international affairs. A potential Moscow—New Delhi axis can help protect against attacks from the United States and become a guarantee in case of a possible behind-the-scenes compromise between Beijing and Washington, which some experts talk about.
One way or another, you need to be prepared that Chinese partners will take full advantage of the situation in which Russian business finds itself — the Celestial Empire only does what's in its interests.
As sanctions intensify, the media reports that Chinese state-owned power giants are already assessing their investments in Russia, the main supplier of oil and gas.
I will give you some figures. In 2019, CNOOC and CNPC agreed to purchase a joint 20 per cent stake in the Arctic LNG 2 project worth $25.5 billion. In 2014, CNPC bought a 20 per cent of Yamal LNG shares. Sinopec owns 40 per cent in the Amur Gas Chemical Complex. In 2016, the Chinese state fund Silk Road Fund purchased 10 per cent of SIBUR shares. Rosneft and Sinopec agreed on joint exploration of the Sakhalin-3 Veninsky bloc in 2005. As of 2009, Sinopec owned 49 per cent in the Russian oilfield Udmurtneft. In June 2017, Beijing Gas Group signed a $1.1 billion contract to purchase 20 per cent of Verkhnechonskneftegaz shares.
In this context, quite logical are recent appeals of Boris Titov, the Presidential Commissioner for the Protection of Entrepreneurs' Rights (co-Chairman of the Russia-China Committee for Friendship, Peace and Development), not to rely only on China regarding import substitution, since the bilateral economic cooperation level significantly lags behind the sphere of politics and diplomacy, and the Chinese, despite the obvious progress in individual segments, depend themselves on the West on many issues.
Meanwhile, the Russian Federation is preparing for the 7th Eastern Economic Forum in Vladivostok in September, at which the government will report to President Vladimir Putin on the Far East development program with a budget of 100 billion rubles (in addition to 18 agreements on the Kuriles for 20 billion rubles). By the way, Mongolia has recently opened its official trade representative office in Vladivostok.
In this context, the statement of the Russian Deputy Prime Minister Alexander Novak on the prospects of the North-South International Transport Corridor (ITC) which, with the closure of borders and the ability to ensure trade turnover and supply logistics, is intended to become the basis of transport communication in Russia, is very significant.
In fact, the North-South ITC has been designed to transport goods from India and the Persian Gulf states to Western and Northern Europe through the territories of Iran, Azerbaijan and Russia, including by connecting the railways of these countries.
What's new in Belarus?
Amid such a dynamic agenda in Asia, the news about intentions of Beltamozhservice, a national logistics operator, to increase the freight volumes through the North-South ITC under emerging new transport and logistics reality get along with the current trend.
As Richard Bach, an American writer, philosopher, and publicist, wrote, "Before you'll change, something important must be at risk". Given the severity and the broad spectrum of modern threats, I would like to address the saying of the Oriental thinker. In particular, Bhimrao Ramji Ambetkar, an Indian jurist and politician, the principal architect of the Constitution of India, who once said, "Humans are mortal. So are ideas. An idea needs propagation as much as a plant needs watering. Otherwise both will wither and die."
Therefore, the information and analytical "irrigation" of the expert concept of "pivot to Asia" is continuing. Moreover, based on outcomes of a recent sociological study conducted by BISR, the public demand for positive signals from the state regarding the certainty of the image of the future and the associated geopolitical stepping stones will only increase.
Yuri ¬YARMOLINSKY, analyst at the Belarusian Institute of Strategic Research.