In September, the Social and Humanitarian Research Centre of the Belarus State Economic University, on demand of by the Belarusian Institute of Strategic Research, held a survey among adolescents aged 14-17. What are the life goals of young people? What, in their opinion, is an indicator of success? Who is regarded as an idol? This and many other issues were raised by experts at a meeting dedicated to the outcomes of the social research "Generation Z: attitudes and values of modern Belarusian youth".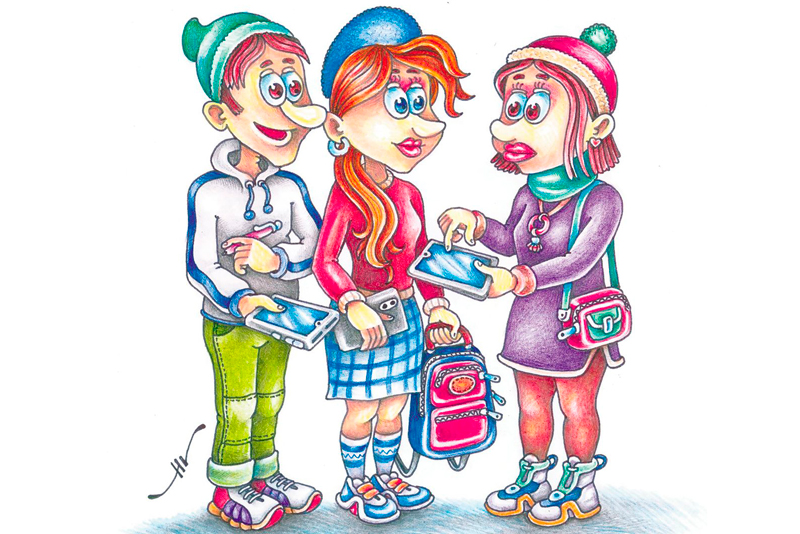 The round table joined Deputy Head of the Department for Educational Work with Youth of the Belarusian State University Yegor Podolyak, Deputy General Director for Commerce of AMKODOR JSC - the managing company of the holding Oleg Dikun, Chairman of the Belarusian Republican Pioneer Organization Central Council, Secretary of the Central Committee of the Belarusian Republican Youth Union (BRSM) Alexandra Goncharova, Head of the Republican Youth Center Vitaly Prigodich, Head of the Department of ¬Economic Sociology and Psychology of Entrepreneurship of the Belarusian State University Irina Lashuk, BISR Deputy Director Vitaly Punchenko, BISR analysts Nikolai Sukhotsky, Svetlana Aleinikova and Ekaterina Petrashkevich. During the conversation, they talked…
...about the importance of research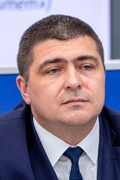 Vitaly Punchenko:  
This is not the first time that BISR surveys the values, specific characteristics, attitudes of young people. Why is this important? One of the strategic analytics goals is to predict the future, to see beyond the horizon, to offer the most effective solutions to challenges being the case. Young people of today will soon be the most active and creative part of society. Based on survey, we can hypothesize about what our society will be like in 5, 10, 15 or more years, define relevant principles of state youth policy and implement them effectively.
Irina Lashuk: 
I represent the Social and Humanitarian Research Centre of the Belarus State Economic University, it was us who were lucky enough to implement this important project for the country. The target audience of the survey were adolescents aged 14 to 17, a total of 2034 respondents took part in the survey.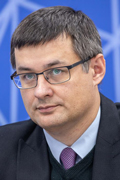 Nikolai Sukhotsky: 
The cohort we studied is unique. As a rule, this segment of young people is left out of large social studies covering mostly respondents aged 18 and older. We decided to make our focus on young people aged 14-17, we want to understand in advance who we will have to work with in the future.
...about goals and life strategies
Nikolai Sukhotsky:
We were keen to know the objectives of young people. It turned out that career and success is number one for generation Z. Top options also include being an expert in a chosen specialty and become rich. 15.4 percent of respondents want to organize their lives in such a way that they work less and have more fun. A standalone question was about life strategies. The study showed that young people aspire to start their own business. The second position is to work hard and persistently. Youngsters understand that to be successful requires putting a lot of effort. The strategy of marrying money, getting a job in Minsk or a civil service is not so popular. In the map of fears, number one is to be left destitute. 49 percent of respondents are afraid of not realizing themselves, not finding their way in life.
Yegor Podolyak:
Yuri Andropov once said that we don't know our society. Now we can tell the same about our youth. Unfortunately, we don't know their lives and their wishes. Working with students, I notice their family and health values go, and self-realization comes first. Analysing the outcomes of the social ¬research, I noted for myself that about 45 percent are not averse to joining parties. This trend continues for several years. Creating new public associations and upgrading the existing ones cannot be avoided. Young people want to be part of the socio-political agenda. But the wish to be a governmental official is low – only six percent.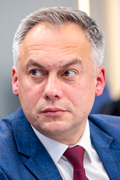 Vitaly Prigodich:
We need to show more the underside of the work of officials. For example, to offer spending one day with the Chairman of the Health Committee of the Minsk City Executive Committee. Perhaps when young people see with their own eyes how the state apparatus operates, they will get themselves into civil service. We need to become more open, young people should know what we do.
...about volunteering
Nikolai Sukhotsky:
Based on the data obtained, we ma assert that in the recent year, more than 55 percent of respondents were involved in volunteer projects.

Alexandra Goncharova:  
As the Coordinator of the "Good Heart" BRSM volunteer movement, I am happy that this is a demanded area among youngsters. We will take this into account when planning our future work.

Vitaliy Podgodich:
Young people are willing to be helpful, to implement initiatives. We need to steer this activity in the right direction.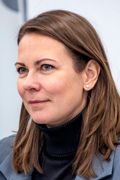 Alexandra Goncharova: 
We also need a mechanism for encouraging, motivating and guiding volunteer activities. For example, the BRSM has initiated the issue of personal records of volunteers displaying their experience of work as a volunteer ¬, their achievements. Based on these data, the Central Committee may recommend an applicant for admission to universities in the social specialties.
...about historical memory
Alexandra Goncharova:
We pay much attention to preserving the memory of the Great Patriotic War. Did the survey include related questions? Is it a matter of interest for young people?
Nikolai Sukhotsky:  
There was an open question to mention events which young people think to be important. The Great Patriotic War was in the first place. In my opinion, we must tell teenagers more about little-known battles and exploits, the defense of Belarusian cities.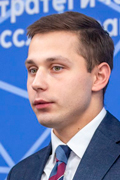 Egor Podolyak: 
I agree with Nikolai. Once during the International Student Forum "The Light of the Great Victory" we included a documentary about the Rzhev Memorial and the battle. Unexpectedly, the students left the room with tears in their eyes. It's a very good idea to pay attention to individual battles, events. Patriotic education is built from such links.
...about politics and politicians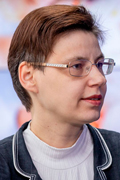 Svetlana Aleinikova:  
The state is at the center of the value orientations of young people. Teenagers perceive the state as a guarantor of their future stability. The peculiarity of generation Z is that it is interested in politics in general, and its representatives are also concerned about events in the country. It was interesting to see the geopolitical orientations of young people, their attitude to other countries. More than 60 percent of respondents believe that cooperation with Russia is most in line with the interests of our country at the moment. Young people understand that establishing relations with a geopolitical partner gives us many advantages. We also asked the teenagers what qualities a politician should have. Most often, the following criteria were mentioned: education, professionalism, leadership, charisma, ability to lead, responsibility. It's amazing to get such mature ideas about officials from the younger generation.
Vitaly Punchenko: 
The question about the image of a politician is interesting. The defined criteria should be a guideline for those who plan to engage in politics.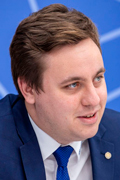 Oleg Dikun:  
Elections to local Councils of Deputies are coming. In the first positions, young people mentioned, leadership, charisma – this should be taken into account when preparing candidates. Young people strive to acquire competencies and they also want to communicate with top specialists.

Nikolai Sukhotsky:  
By the way, a sense of humor for a politician, according to teenagers, is not so important, it is an outsider. Though in the question of the qualities they value in people, it is much higher.
...about the patriotism of generation Z
Svetlana Aleinikova:
Young people demonstrate two tendencies: a request for self-realization, success, consumerism. On the other hand, there is a wish to be helpful, clearly identified concepts of good and evil. Speaking about patriotic attitudes, positioning relative to the country, it should be noted that to be a Belarusian for representatives of generation Z means to be a Belarusian by origin.
Irina Lashuk: 
This response speaks of a deep national identity. The option "to be a Belarusian by origin" was chosen by more than 45 percent of young people – a good indicator which must be retained and improved. Before, the identity was more territorial: "living in Belarus" was equated to "being a Belarusian". Now, other factors have come to the fore. This, in my opinion, is the core of the national idea that we are after.
...about online presence and idols
Nikolai Sukhotsky: 96.6 percent of respondents use the Internet every day. They spend most of their time on social networks, on entertainment sites (music, movies), online stores and games. We may conclude that they are interested in entertainment content.
Oleg Dikun: 
And which social network is the most popular?
Nikolai Sukhotsky:  
TikTok and Instagram shared the first place. Next go VKontakte, YouTube. More than half of the surveyed teenagers use Telegram, it is almost twice as popular as Viber.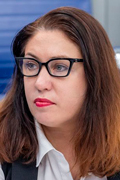 Irina Lashuk:  
There were several open questions in the survey. We got used to the fact that social studies leave these points unanswered. But we were surprised: young people gave detailed answers. Most actively, they gave the names of popular bloggers.

Nikolai Sukhotsky:  
Vlad A4 is number one. Next come Dima Maslennikov, Yulik, Mikhail Litvin. And do you know what person living today the teenagers would like to talk to? Elon Musk.

Yegor Podolyak: 
Seems quite reasonable, Musk just has the qualities that young people appreciate: he is educated, open, sociable and successful.