Optimistic and emotional speeches, hot-button issues, curious discussions – this is how the Minsk International Dialogue Forum was remembered. The relevance of the subject contributed to an open and interested conversation. And the speech of the President of Belarus at the plenary session caused a great resonance among politicians and experts. The world's media space was immediately filled with splashy headlines. Alexander Lukashenko said multiple times that the degree of mistrust and confrontation in international relations had reached its upper limit. And if today we do not take real steps towards each other and ignore the voice of diplomacy, tomorrow the military will start speaking. Hence the Belarusian leader's call to the world community to take decisive action and to promote the idea of Helsinki-2, the dialogue between the EU and the EAEC, the CSTO and NATO, and the creation of a "digital neighbourhood belt". And the President of Belarus called the resolution of the conflict in Ukraine a test for European politicians: "We must solve this problem! Then these dialogues will have some significance".
If the first Minsk Dialogue forum was attended by about 500 people, this time the number of participants exceeded 700. This is an argument in favour of the need for such discussions and the increasing role of Minsk as a negotiating platform. However, Oleg Makarov, Director of the Belarusian Institute for Strategic Research, is convinced that it is not only and not so much about the number of participants: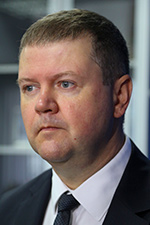 - It is not a negotiation or a business forum where everything is measured by agreements, commercial contracts and money. It is a platform where the position of Belarus is heard (and we have something to say) and where we hear others on security and development issues. For us, it is vital to understand how to survive in the face of a tough confrontation between major countries, world leaders and centres of power.
Of course, there are other analytical platforms in Europe. But our country has a special role to play in this respect, BISR Director emphasised:
— We are located on the borderline of major geopolitical formations, the EU and the EAEC, and we would like to see it not as a fault line, but as some kind of a link that Belarus is capable of being. This is particularly important now, given the fact that international law is being eroded and the states consider themselves entitled not to comply with international obligations, unilaterally terminating the agreements and treaties which were difficult to conclude and which provided a certain security umbrella. Such careless attitude towards diplomatic achievements after World War II poses major risks to the European continent.
In this regard, the proposal of the President of Belarus to develop and adopt a multilateral political declaration of responsible countries on the non-deployment of medium- and short-range missiles in Europe deserves attention. It will not be possible to replace the INF Treaty, but at first it will fill the legal void in the regulation of this arms segment. Of course, given that there is less and less trust between the world's key players, any peacekeeping initiatives are extremely difficult to implement. But Oleg Makarov is convinced that there is probably a chance for small countries like Belarus, given that the major players will be sceptical about each other's ideas and proposals. But small countries seeking to defuse tension can make a real contribution to the revival of the "spirit of Helsinki".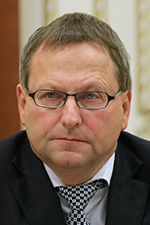 It is increasingly evident that our European partners appreciate the efforts made by Minsk to create a concept of European security based on cooperation.
— Belarus has many proposals on conflict mitigation, de-escalation and confidence building in Europe. This is very important and we hold exactly the same position," said German Ambassador to our country Manfred Huterer.

According to Vladimir Fesenko, Head of the Board of the Centre for Applied Political Research "Penta" (Ukraine), since Minsk is already traditionally used as a place for peace talks, it is logical to discuss European security issues in a wider format:
— Belarus' initiative for such a European-wide dialogue on security issues is very relevant. And I think it has certain chances of success. Again, now there is no readiness for a big framework agreement, but there is a chance, and this chance should be tried.