The Phantom of Disaster
Predictions of experts for the near future are getting darker. The world world is facing a global food crisis and hunger unseen since the WWII. And this is not one more scenario of some Hollywood horror movie, but a reality that tens of thousands of people in Africa and the Middle East have to accept. In won't be long before the problem affects ordinary Europeans, already howling over rapidly rising prices for fuel and food.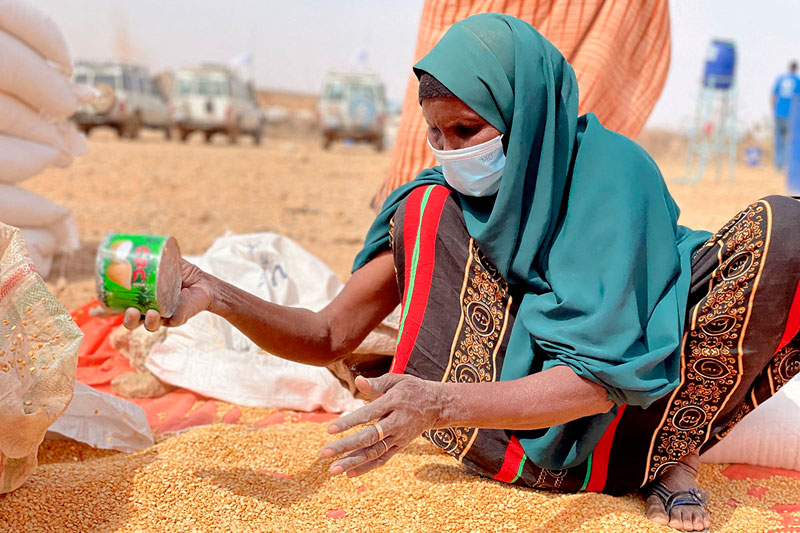 And if before Western officials were able to blame the coronavirus consequences for the problem, now even the most notorious skeptics have to face the alarm and be aware that the world is on the verge of global hunger.
There are several reasons for that. Until the middle of 2020, wheat prices were stable, and since July, dollar printing was followed by a period of a price spike. The logistic collapse, thoughtless sanctions, actions by the European Union and the United States against Russia and Belarus, which undermined the logistics of mineral fertilizers, as well planting reduction in Ukraine became another juicy slap, which turned grain volatility into a rapidly approaching, like an avalanche, world hunger.
Svenja Schulze, Federal Minister for Economic Cooperation and Development of Germany, said in a recent interview that food prices worldwide have increased by a third and are at a record level. She pointed out that many countries depend on Russian agricultural products.
It should be added that it's not only her who keeps talking about this. UN Secretary-General António Guterres notes that the current crisis risks tipping up to 1.7 billion people — over one-fifth of humanity — into poverty and hunger. Just read and consider these numbers! According to Guterres, the global food crisis cannot be solved without returning to the market agricultural products from Russia and Ukraine which provide 30 percent of the world's wheat and barley, one-fifth of its maize, and over half of its sunflower oil.
According to UN preliminary estimates, the number of malnourished people in the world may increase by 8-13 million in 2022-2023.
The Africa's malnutrition level today is 20 percent of the total population. The situation being the case in the world only exacerbates this picture by the fact that the numbers of malnourished and undernourished will increase. ¬The head of the African Union, Senegalese President Macky Sall voiced his concern about the consequences of the sanctions imposed on Russia, in connection with which the supply of Russian and Belarusian fertilizers to the African continent was stopped. According to his forecasts, if fertilizers cannot be purchased rapidly, the grain harvest will be 20 to 50 percent down this year and will entail a severe food crisis in African countries.
According to BISR analyst Olga Lazorkina, the West cannot but listen to this opinion, for a large-scale hunger in Africa threatens European countries with significant migration flows, which in turn destabilizes their social system.
— In this situation, the issue of sanctions has to be resolved here and now, this isn't about delayed effects any more. The new sanctions model, when decisions are made very quickly and all their consequences are not estimated, call into question the correctness of paths that European leaders have chosen. Of course, no one is talking about solving some political challenge, but about feeding people and reducing migration risks. ¬French President Macron said that there are already mechanisms for making payments and the possibility of delivering fertilizers to countries in need. The main thing at the moment is to take care of people, no matter how unpopular the steps of politicians may be. When feeding people is a must, politics can wait.
Regarding this, ¬in an interview with journalists following the opening of No.9 Minsk Municipal Children's Polyclinic, the Belarusian President was right to raise the issue that Belarus can be considered as a transit for food transportation to Europe and other countries. The question is whether the West is ready for a constructive dialogue.