On November 16, BISR leaders and analysts participated in a round table organized by the Embassy of Kazakhstan in the Republic of Belarus. The event was also attended by deputies of the Belarusian Parliament, representatives of political, public and academic circles of the Republic of Belarus.
The participants discussed the transformations and reforms implemented by the President of the Republic of Kazakhstan Kassym-Jomart Tokayev, as well as the presidential election campaign of 2022.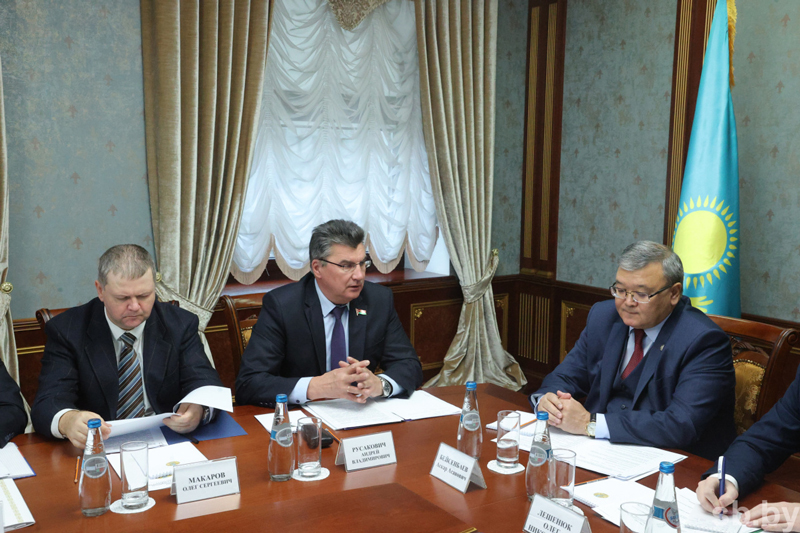 Opening the event, Ambassador Extraordinary and Plenipotentiary of the Republic of Kazakhstan to the Republic of Belarus Askar Beisenbayev said that the upcoming extraordinary presidential elections in the country can be considered one of the most significant for the future of Kazakhstan. The diplomat stressed that despite all difficulties, the Kazakh people have begun a new path of their political development.
Askar Beisenbayev noted the relevance of Kazakhstan's significant role in trade between Europe and Asia for the Belarusian-Kazakh relations, given that in 2021 the volume of trade turnover between our countries exceeded 1 billion US dollars, and Kazakhstan's exports to Belarus increased by 82%.
In turn, the BISR director Oleg Makarov expressed the viewpoint during his speech that the focus on development and anticipating threats is an effective domestic political tactic of Kazakhstan. The authorities did not separate overcoming the consequences of the recent upheavals from the systemic reforms initiated at once at several levels. The high rate of transformations gives Kazakhstan great advantages, allowing to model the situation and possible options for its development.
According to Oleg Makarov, In many respects, the synchronous nature of the constitutional reforms being the case in our countries causes a natural interest of the Belarusians in the Kazakhstan experience. Creating a modern effective state in Kazakhstan based on the transition to a service model of its interaction with society is an example of a successful state project in the post-Soviet space.
Kazakhstan is positively perceived in the Belarusian society as one of the promising vectors of the foreign policy of the Belarusian state, which is confirmed by both sociological surveys outcomes and the data obtained by "Infometrica", the BISR automated information and analytical system.
The readiness to increase Belarusian-Kazakh cooperation is evidenced by the meeting of the President of the Republic of Belarus Alexander Lukashenko with the President of Kazakhstan Kassym-Jomart Tokayev in Astana on October 13, 2022 on the sidelines of the Conference on Interaction and Confidence Building Measures in Asia, at which the Head of the Belarusian state stressed that "the time has come for Asia," and Kazakhstan is far from playing the last role in increasing the influence of Asian organizations in the world.